Tue, Aug 16, 2016 at 10:50AM
---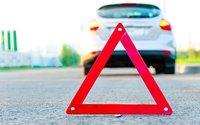 We're always here when you need help on the road—but when it comes to ensuring a safe, smooth ride, some of the very best tools are right at your disposal! In today's blog, we will be looking at seven smart items to keep in your car to ensure that you're safe and secure, no matter where you go.
First aid kit
Wherever you go, a small but handy first aid kit can make your trip a little safer. Keeping a simple, prepacked kit in your trunk or glovebox will allow you to take care of minor scrapes or bumps easily, allowing you to get back to the day's activities sooner.
Jumper cables
Always be sure to keep jumper cables in your car, for your own roadside needs or even those of a friend or family member you might encounter along the way.
Car charger…
We never seem to have a charger with us when we need it the most. To combat any inconvenience caused by an out-of-charge phone, keep a designated car charger in your vehicle at all times. You'll never have to be caught off guard by a dead battery again!
…and an old cellphone
In addition to keeping a car charger on hand, it's always a good idea to store an extra cellphone in your car. It can be old or without service—the key is that, should you ever have to make an emergency call and don't have access to a working phone, even your out-of-service phone will be able to make that call. Keep this phone fully charged but turned off, so that it's ready whenever you need it.
Water and snacks
Sometimes road trips can take longer than you anticipate, or lead you to unfamiliar paths along the way. Keep a few nonperishable snacks, as well as several bottles of water, in your car to make unexpected detours a little easier to manage.
Reflective triangles
If you ever experience roadside problems, having a few reflective triangles on hand will allow you to assess the problem or wait for help safely, since these triangles will make your car more visible to other drivers.
Flashlight
In the same vein, having a flashlight—besides the one on your phone—on hand will give you a chance to change your tire or check under the hood with ease, helping you to get back on the road quickly.
We hope that today's list helps you achieve confidence and peace of mind while you're on the road. And as always, if you're ever in a situation that requires roadside assistance, be sure to call Arrow Service & Towing and we'll be happy to help.