Mon, Aug 28, 2017 at 11:30AM
---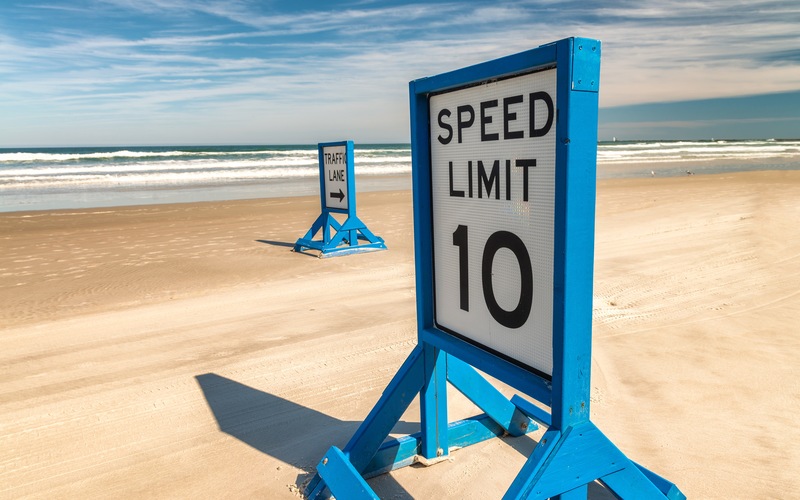 A love of cars and all things automobile has long pervaded Daytona Beach. Next to our shoreline, it's what we're best known for!
If you're new to the area, or simply want to get involved with the local car culture, we've got you covered. Take a look at today's blog for a few easy ways to embrace your passion here in Daytona Beach and the surrounding area.
Drive on the beach
Driving on the beach is a must-do activity for locals and visitors alike! There's nothing like the ocean view or the sensation of navigating our shoreline's hard-packed sand from an all-new perspective. With driving zones all along the coast, you can access this unique experience at a number of spots, including the Ponce de Leon Inlet south of Daytona Beach! Here you'll be able to enjoy sparkling water views to the south and to the east, too. Play your favorite music as you gently drive past fellow beachgoers and auto enthusiasts who love the experience for all the same reasons.
Visit the "Birthplace of Speed"
Today, driving on local shores is a novelty—a fun way to connect to the area's racing roots, even if you're not racing yourself. Want to see where those early races first took place? Visit Ormond Beach's Birthplace of Speed Park! This destination (located by the beach, where A1A and Granada meet) marks the spot of the first timed trials. It's a great experience, one that will remind you just how far we've come since the sport's very beginnings.
Get to know the Speedway
If the Birthplace of Speed marks the beginning of auto racing, then the Daytona International Speedway marks the future. Even outside of race day, it's a celebration of our favorite sport and the modern technologies that make it possible. You can visit the track and ogle at the 31-degree banks that your TV screen can't quite do justice. While you're there, you can also check out the Motorsports Hall of Fame of America to see achievements in other motor-powered adventures via motorcycles, powerboats, and more.
Attend local events
There's always something going on in Daytona Beach… and often, that "something" has a lot to do with cars! One especially beloved event is the Turkey Run, which takes place Thanksgiving weekend right at the Speedway infield. Here you can attend the Car Corral and Swap Meet, where fellow car lovers will have their rides on display (and you can even enter a raffle to win a classic of your own!).
We hope that today's blog helps you explore the speed-loving side of Daytona Beach. Now that you know how to get connected, ensure that your car runs at its absolute best. Call Arrow when you need service, repair help, a quick tow or just about anything else—we're your go-to team!